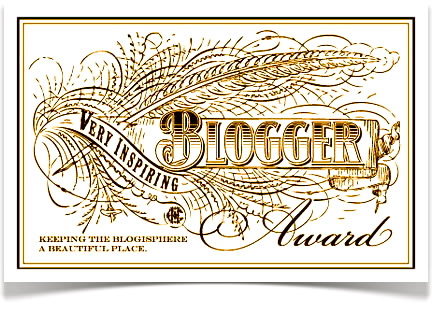 Thanks to lil
http://submissivesanctuary.blogspot.co.uk/
for nominating me this, the rules are as follows
Display the award logo on your blog
Link back to the person who nominated you
Nominate 15 other bloggers for this award and link back to them
Notify said nominated bloggers
List 7 things about yourself
whew ok 7 things about myself....i accept no responsibilty if these titbits have already been mentioned somewhere in my blog! lol
1. I live by the sea, within 5 mins walk but i cant swim and im terrified of the sea..i will not go out of my depth thats if i go in it the first place.
2. I can 'talk' away on here and sometimes my comments on others blogs can ramble on but face to face im shy and if we all ever managed to get together i would be the one in the corner, nervous about meeting and talking, its sometimes misinterpreted as being unfriendly but its not, im not a very confident person with people i just meet or/and dont know well.
3. Im a theme park junkie, most especially roller coasters, love them, but you wouldnt get me on a big wheel/ferris wheel for love nor money!
4. I sometimes wander if there is something wrong with me because even in ttwd i cant say sex is that important to me, i enjoy it but i dont need it and could certainly manage long periods of time without it if it should happen.
5. I believe in karma (cause and effect) and that you should treat people how you would want to be treated yourself, and i try to remind myself of this when someone upsets or has caused me harm and really im thinking "i want to rip your fucking head off" it doesnt always work...but i try!
6. I have read one book on bdsm and D/s relationships and although it was interesting and informative i am a sceptic of these types of books because i dont like 'manuals' that imitate it should be a certain way ie...."A good dominant should be/do xyz" or "A good submissive should be/do xyz" ..... im more a "do it your way" train of thought, i figure we are people, individuals with emotions and different experiences not mass produced flat packed furniture!
7. When i announce that im going to 'experiment' in the kitchen food wise, they all get out the take-away leaflets..its quite insulting really.
Now i hate this part because there are so many great blogs but at random here are my nominees
http://fondles.blogspot.co.uk/2013/01/snippets-lunar-new-year-edition.html
http://cassaundrawithacollar.blogspot.co.uk/2013/01/back-from-brink.html?zx=24b1b3bb97b3b52d
http://ownedlittleone.blogspot.co.uk/2013/01/my-dark-sense-of-humor.html?zx=1d7761be3f547982
http://faerielernstofly.blogspot.co.uk/2013/01/his-fault.html?zx=278d833fde37c49e
http://thesubmissivewife.blogspot.co.uk/2013/01/follow-friday-01-25-13.html?zx=d10c997a2af3a0a2
http://subjoolz.blogspot.co.uk/2013/01/random-thoughts-for-saturday-afternoon.html?zx=a593e1753e5a3232
http://aslavestale.blogspot.co.uk/2013/01/rattle-of-chains.html?zx=13c62221320b5fe0
http://sirqandme.blogspot.co.uk/2013/01/well-played.html?zx=d0143800751d9763
http://ourownds.blogspot.co.uk/2013/01/my-fascination-with-sadism-and-masochism.html?zx=bb5f7b3c6e22e45d
http://joeyred51-joeyandfriends.blogspot.co.uk/2013/01/a-spanking-at-end-of-tunnel.html?zx=8a913cc8709f4126
http://mmd6448.blogspot.co.uk/?zx=2377f60354abe2fc
http://floridadomscorner.blogspot.co.uk/2013/01/chirstmas-in-january.html